Bishop, CA Hot Spring Pools
The pools at Keough's Hot Springs were built in 1919 and are the still the same pools used today. We offer Water Aerobics classes and lap lanes to family fun and small birthday parties and have a hot soaking pool for those just needing to relax their body and mind.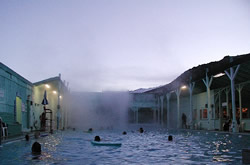 The large pool is 100 x 40 ft and 3ft to 8 ½ ft deep. This pool is kept at 86 – 89 degrees in the summer heat and 90 to 92 degrees in the chill of the winter; always the perfect temperature for exercise, splashing, or just floating your cares away.
The Hot Pool is 15 x 40 ft with an average depth of 2 ft and is kept at a comforting 104 degrees year round. The hot springs flows from the ground at a scalding 130 degrees and is fed into a spray system that flows like a water fall into the larger pool in turn cooling the water to its pleasing and usable temperature. The water contains 27 different minerals and flows from the ground at 600 gpm.
The Pools are emptied, cleaned and then filled again each week. Both pools are free flowing pools so they have a constant flow of fresh mineral water throughout the day.
There are lounge chairs around the pool to relax and sun bathe on. Dressing rooms and restrooms are provided. There is a snack bar to satisfy any craving you may have with an indoor eating area. There is also a beautiful picnic area available outside.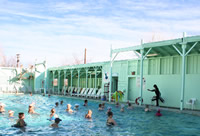 We have water aerobics classes held 4 times a week. Our Aerobics instructors have over 25 years of experience. This low impact exercise routine is perfect for anyone and can be done by anyone from recovering stroke victims and surgery recovery to marathon runners in training. The classes last about an hour and are $8.00 per person per class. There is no sign up necessary, just show up and join in the fun.
*Hours and rates are subject to change.