Keough's Hot Springs
Keough's Hot Springs was established in 1919 and is still used today by locals and visitors alike.  We invite you to come and partake in the splendor and relaxation of this one of a kind experience.  This is the largest natural hot springs pool in the Eastern Sierra and has a waterfall cooling system that plummets into the larger pool as well as a hot soaking pool.  Amenities include lounge chairs for sun bathing, snack bar for sustenance, picnic area for play time and a rock garden trail for peace of mind.
COVID-19 Keoughs Public Swim Guidelines
Keoughs is open under limited occupancy and hours, snack bar is open, gift shop items are available for purchase if you ask for something specific, all hours are posted and updated consistently on our FB page, water aerobics classes have resumed as well since social distancing is possible!
During this time of adjustment, please be patient. We must adhere to limited occupancy. We are doing everything we can to stay open by keeping the facility safe and clean, but need your help to maintain social distance. Please check our Facebook Page to stay current with changes and thunder and lightening closures.
Mon-Wed-Thur-Fri:
11:00 am - 6:00 pm

Saturday-Sunday
9:00 am - 6pm

Altered schedule will have smaller occupancies to enable social distancing, we will be sanitizing facilities throughout the day. Bring your own noodles, towels, etc.
Camping & RV Sites
With year round electric and dry camping this is the place you want to stay. Whether you are here to do some fishing in the Sierra, Ski Mammoth Mountain, hike Mt. Whitney or visit the Ancient Bristlecone Pines we are the perfect location to do it all.  Enjoy a soak while you stay.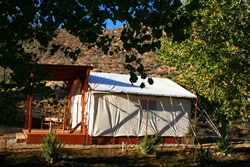 Rustic Furnished Tent Cabins
The perfect getaway for anyone with an adventurous heart yet has a yearning for comfort and a relaxing stay. This experience places you in a cozy canvas wall tent furnished with antiques and comfortable bedding, complete with heaters and mini refrigerators. With a fire pit for ambiance or roasting s'mores your romantic getaway is complete with a soak in the hot springs. Reservations can be made by phone in advance.
The Keough's Shop is stocked with swimming accessories, souvenirs and camping supplies.